Company Has Commenced Phase I Fieldwork in Nunavik
 Vancouver, British Columbia, Canada, September 12, 2023 – Discovery Lithium Inc. (CSE: DCLI) (OTC: DCLIF) (FRA: Q3Q0) (the "Company," or "Discovery Lithium"), formerly "ISM Resources Corp." advises that subsequent to its recent name change, the Company is pleased to announce the launch of its corporate website at www.discoverylithium.com and provides the following corporate update.
Highlights
Lithium prospects developed by globally recognized prospector, Shawn Ryan.
Shawn Ryan serves Discovery Lithium as regional advisor and project proponent.
Massive land holdings (approximately totalling 406,000 acres) in underexplored region.
Provincial lake sediment database shows consistent high levels of cesium and lithium.
Phase 1 fieldwork commenced mid-summer and currently underway.
Provincial Société du Plan Nord mandates energy & mineral resource investment.
Company President & CEO Michael Gheyle states, "We are thrilled to be working with Shawn Ryan and have further engaged the professional services of Ground Truth Exploration who have been in the field for several weeks traversing, mapping, and sampling our holdings using state-of-the-art portable technologies. This initial assessment is focused on generating future drill targets which we anticipate commencing during the early fall season. This is an exciting region with some extraordinary data pointing us forward. While we have a lot of ground to cover and work to undertake, the plan Shawn has helped us formulate allows us to move in a timely and efficient manner. We anticipate some interesting updates in the very near future and we are fully committed to developing investor interest and shareholder value in this exciting region."
The Company is currently focused on executing exploration activities at two claim areas of northern Quebec that have not previously been explored for lithium. The properties consist of the Serindac Lake claims group in the Leaf River project area comprising 1,649 mineral claims covering approximately 75,256 hectares of land, and the Vaubert Lake claims group in the Raglan South project area comprising 2,114 mineral claims across nearly 89,027 hectares. Both claim group areas are located in the Nunavik region of northern Quebec. The Nunavik region has seen very little exploration for lithium and rare-element pegmatites to-date.
World renowned Canadian prospector Shawn Ryan serves Discovery Lithium as a forcefully credible proponent for the region and its potential. His efforts encompass extensive research using a combination of sources including Quebec Ministère des Resources naturelles et des Forêts province-wide lake sediment sample data sets and associated regional geochemical and geological sampling and mapping. His studies led him to conclude the region offers excellent district-scale lithium prospects.
Discovery Lithium's extensive claim holdings are located directly upon some of the highest lake bottom sediment anomalies in the entire province. The data represents 99th percentile lithium and cesium as identified in the official Quebec government ministry database (Figure 1).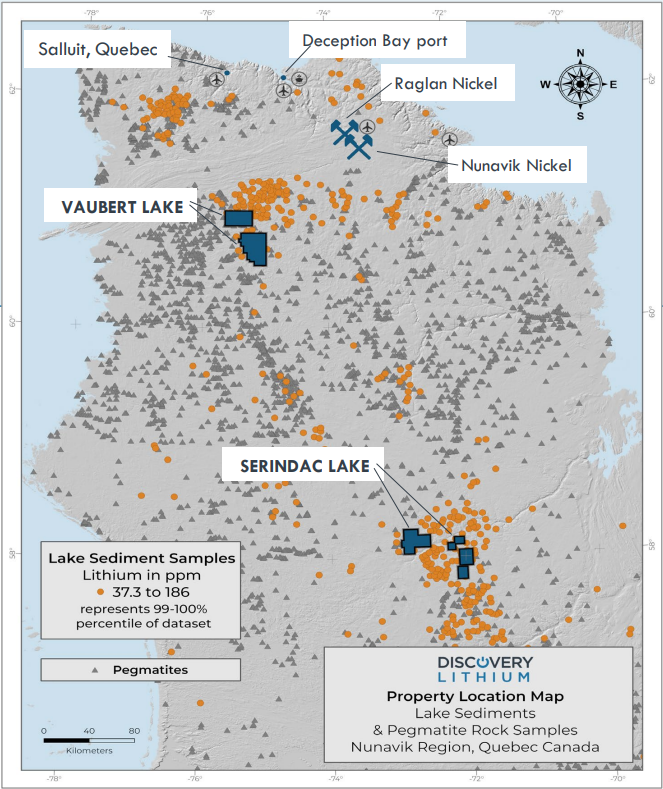 Figure 1.  Lithium lake sediment samples of the Nunavik region.
Source: Ministere des Ressources naturelles et des Forets.
The Quebec governments' previous geological and geochemical work identified numerous pegmatites in the area. However, the focus of this work was reconnaissance geological mapping with no focus on sampling for rare elements. Using the historic data and known locations of unsampled pegmatites, Discovery Lithium can expedite its search for lithium-bearing pegmatites.
Early-stage assessments of available historic regional data posit geological parameters that reinforce the region as an excellent location for rare-element pegmatites including favourable lithological rock-types and structural interpretation of regional magnetics which are coincident with very high lithium, cesium, and rubidium lake sediment samples. Additionally, nickel mining activities in the region demonstrate the region is "mining-friendly" and capable of sustaining successful and profitable large-scale production of minerals and metals. Furthermore, the Quebec government's Société du Plan Nord is mandated to promote investment in northern development which includes energy and mineral resources coupled with transportation infrastructure.
As announced recently, the Company's common shares trade on the Canadian Securities Exchange under the symbol "DCLI" and on the OTC under the symbol "DCLIF". The Company's symbol is "OJ5" (WKN: A3EFKA) on the Frankfurt Stock Exchange in Germany. The CUSIP number for the common shares is 25472M107 and the ISIN is CA25472M1077.
Qualified Person; Historical Estimates
The technical content of this news release has been reviewed and approved by Mike Kilbourne, P. Geo., (OGQ # 1971) who is an independent Qualified Person (QP) as defined in National Instrument 43-101, Standards of Disclosure for Mineral Projects.
All technical information herein constitutes 'historical estimates' as that term is defined in National Instrument 43-101 – Standards of Disclosure for Mineral Projects ("NI 43-101"). A qualified person has not done sufficient work to classify any of the references discussed herein as current mineral resources or mineral reserves and these estimates are being treated as historical in nature. Accordingly, these historical estimates are presented only for the purposes of assisting in describing the extent of lithium mineralization and to outline the exploration potential. Any historic samples are by their nature selective and are not necessarily indicative of the general geology or grade within the property(s) and are not contained in a 43-101 technical report and are provided for context only. These estimates should not be relied upon for assessing the merits of the Discovery Lithium properties. The Company will undertake such exploration work as it determines necessary in order to upgrade or verify the historical estimates contained herein.
For more information please visit: www.discoverylithium.com.
About Discovery Lithium (CSE: DCLI) (OTC: DCLIF) (FRA: Q3Q0)
Discovery Lithium Inc. is a Canadian exploration company focused on advancing mineral resource projects in North America. It holds 100% interest in 1,675 mineral claims in Serindac Lake and 2,113 mineral claims in Vaubert Lake located in the under-explored Nunavik region of Northern Quebec. Additionally, the Company is actively advancing its ESN Project for gold exploration in Nevada and evaluating the Koster Dam Project in Central British Columbia through a joint venture with Cariboo Rose Resources. Find out more at: www.discoverylithium.com and follow us on X (formerly twitter), Facebook, and LinkedIn.
On behalf of the Board of Directors,
Michael Gheyle
President & Chief Executive Officer
The Company would like to welcome investors to visit our website and join our mailing list at www.discoverylithium.com/news-alerts/. By subscribing you will stay up to date with the latest news releases and advancements within our company.
For further information, please contact:
Discovery Lithium Inc.
1450 – 789 West Pender Street,
Vancouver, BC Canada V6C 1H2
Telephone: +1 (778) 868-2226
Email: info@discoverylithium.com
Web: www.discoverylithium.com
Caution Regarding Forward-Looking Information
Certain statements contained in this news release may constitute forward-looking information. Forward-looking information is often, but not always, identified by the use of words such as "anticipate", "plan", "estimate", "expect", "may", "will", "intend", "should", and similar expressions. Forward-looking information involves known and unknown risks, uncertainties and other factors that may cause actual results or events to differ materially from those anticipated in such forward-looking information. The Company's actual results could differ materially from those anticipated in this forward-looking information as a result of regulatory decisions, competitive factors in the industries in which the Company operates, prevailing economic conditions, changes to the Company's strategic growth plans, and other factors, many of which are beyond the control of the Company. The Company believes that the expectations reflected in the forward-looking information are reasonable, but no assurance can be given that these expectations will prove to be correct and such forward-looking information should not be unduly relied upon. Any forward-looking information contained in this news release represents the Company's expectations as of the date hereof and is subject to change after such date. The Company disclaims any intention or obligation to update or revise any forward-looking information whether as a result of new information, future events or otherwise, except as required by applicable securities legislation.